The top small towns for taking in the fall foliage
David Seibold / Flickr Commons
The top small towns for taking in the fall foliage
The feeling of change that permeates the air during the fall affects everyone in different ways. It may sway you to make a career switch or try out a new hairstyle. It can make you nostalgic or want to spend more time with family. It can also inspire a desire to spend more time outside, admiring the nature that we often take for granted – and what better time than in autumn?
Using an aggregate of visitor reviews and expert analysis from U.S News & World Report, Travel + Leisure and Country Living, Stacker found the top small towns and villages you should visit to take in prime leaf-peeping this fall. For each town, we include the Census' 2015 estimated population as well as top foliage hotspots and local histories worth exploring.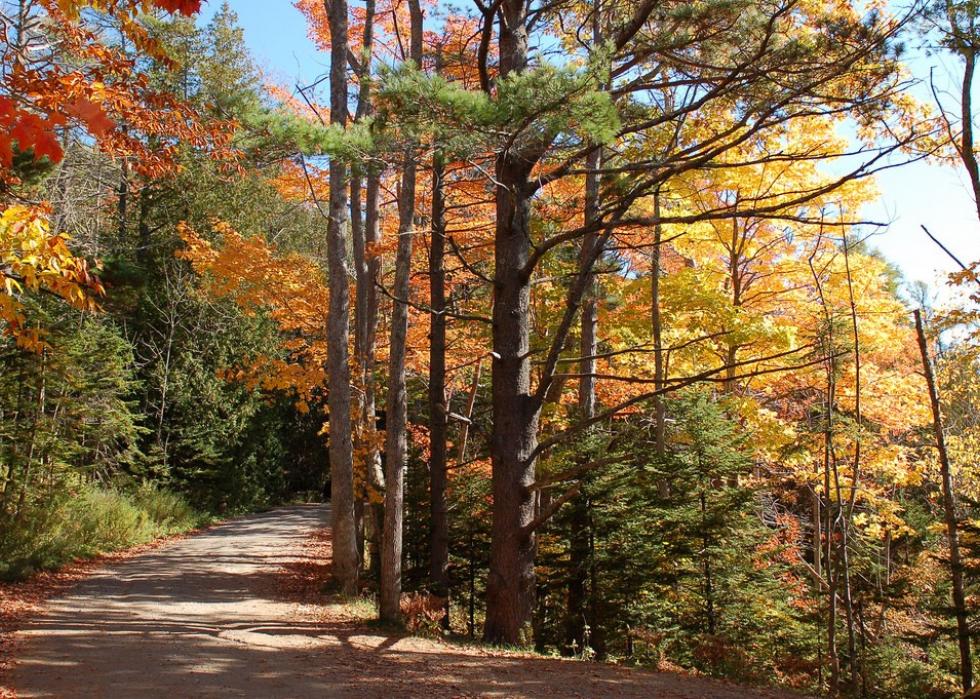 1 / 50
Erik (HASH) Hersman // Flickr Commons
#50. Camden, ME
Est. Population: 4,844
This small town on Maine's Penobscot Bay offers a kaleidoscope of colors come autumn, with a spectrum of green to scarlet birches, chestnuts and elms. Enjoy the changing of the seasons via boat or from atop Mount Battie in Camden Hills State Park.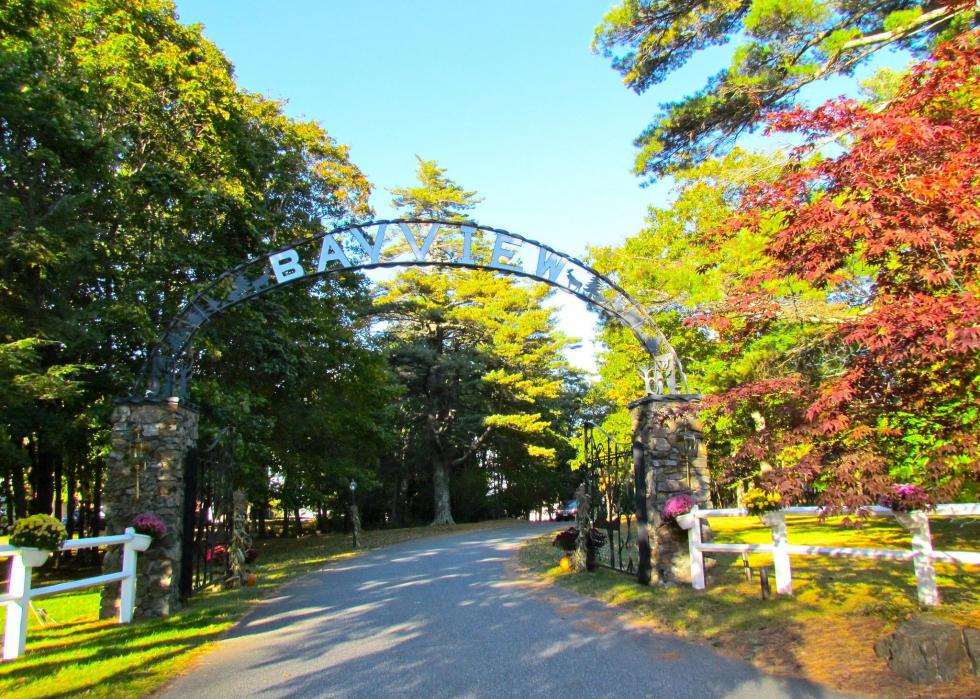 2 / 50
Jeff Gunn // Flickr Commons
#49. Bar Harbor, ME
Est. Population: 5,296
For the best bird's-eye view of the changing landscape, drive to the top of Cadillac Mountain. Otherwise, explore the rest of Mount Desert Island (the largest island off the coast of Maine where Bar Harbor sits) as well as Acadia National Park for some of Maine's most stunning multi-color leaves.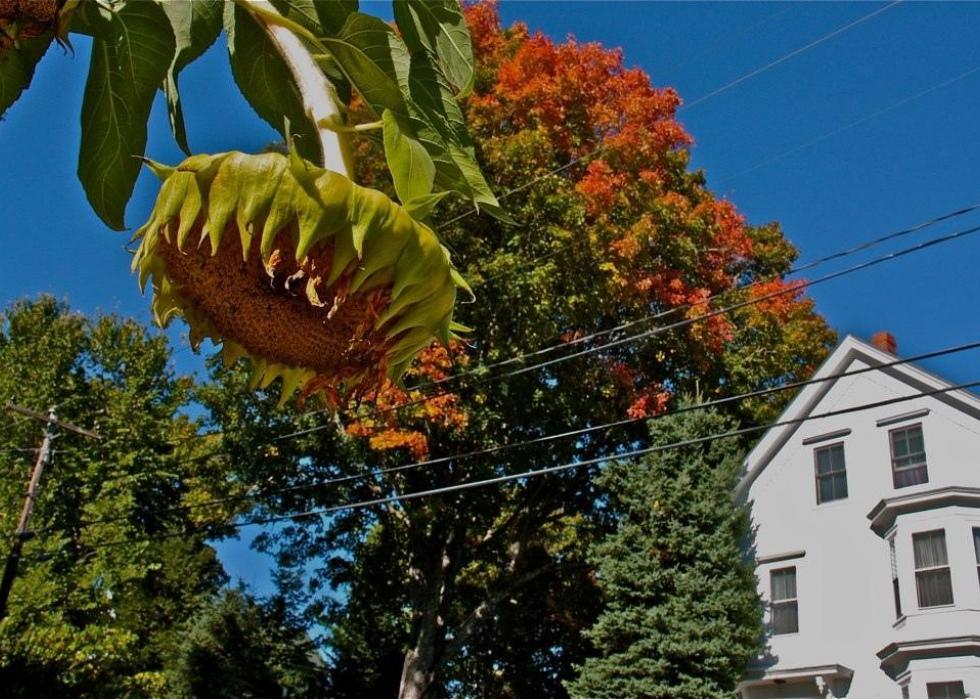 3 / 50
smilla4 // Flickr Commons
#48. Blue Hill, ME
Est. Population: 2,676
Blue Hill is a little seaside village whose shining fall foliage is best explored by hiking. Cadillac Mountain in Acadia National Park offers especially breathtaking vistas.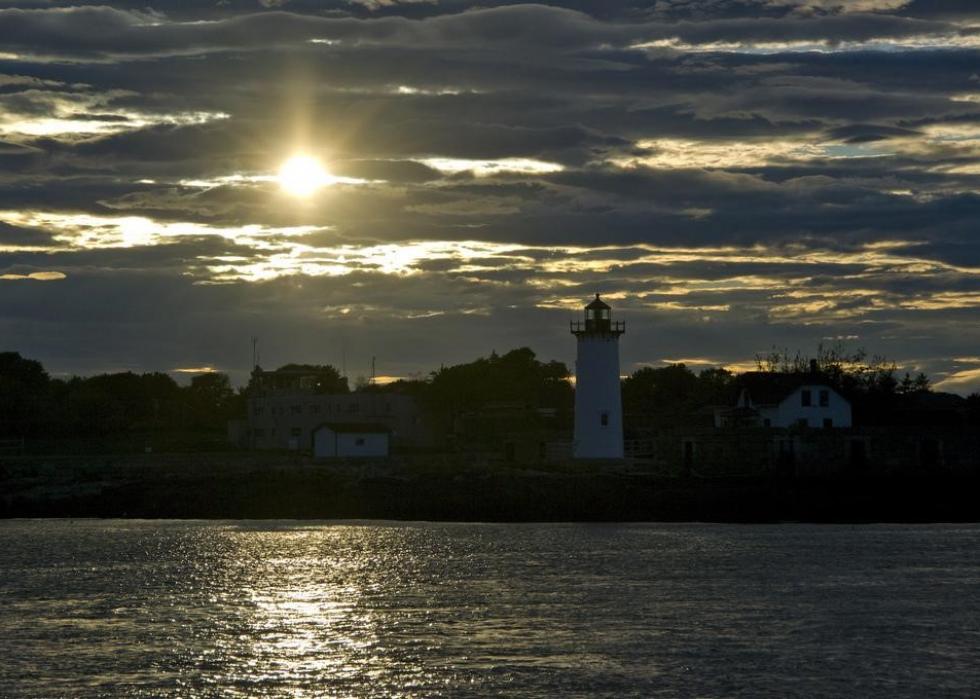 4 / 50
Selbe Lynn // Flickr Commons
#47. Portsmouth, NH
Est. Population: 21,426
A treat for American history and nature lovers alike, Portsmouth offers the 10-acre Strawbery Banke Museum that allows visitors to explore the history and beauty of the waterfront's 1600s-era homes. Visitors are also welcome to take an inland river cruise to get a view of the leaves as well.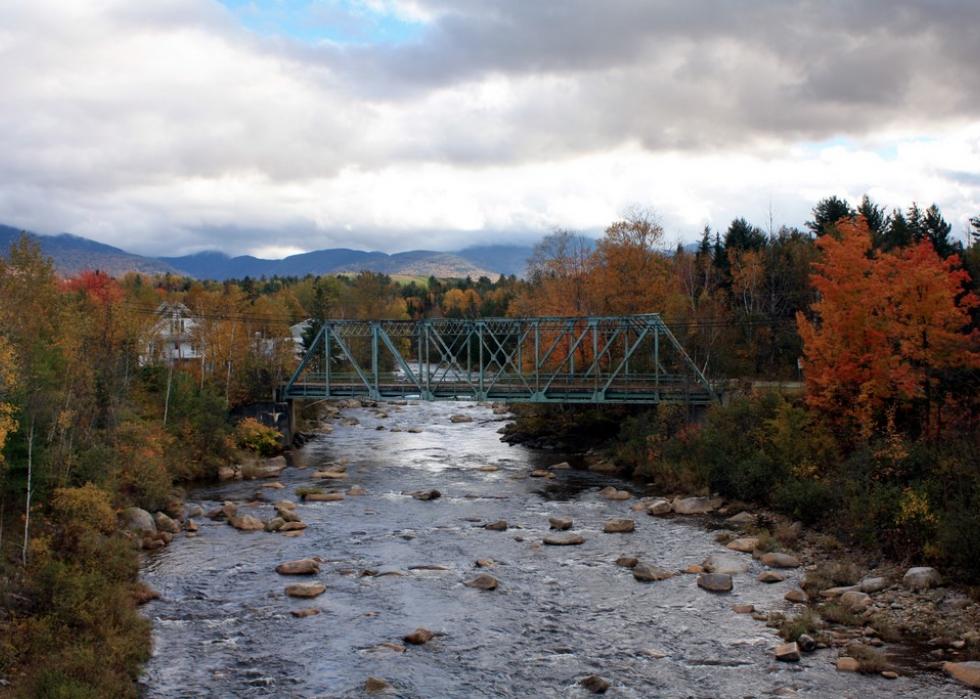 5 / 50
cmh2315fl // Flickr Commons
#46. Bethlehem, NH
Est. Population: 2,551 
The White Mountains are a haven for those who love to adventure outside. After driving along the Kancamagus Highway to catch the views of the verdant and reddish surrounding forests, those leaf-peepers wanting to get in the literal thick of it can hike or camp in the White Mountain National Forest.
6 / 50
Neil Hunt // Flickr Commons
#45. Carroll, NH
Est. Population: 946
In Carroll, the breathtaking mountain scenery is likely best viewed by doing something other than driving or biking. Explore the famous Bretton Woods area by train on the cog railway, or partake in a three-hour zipline canopy tour over the White Mountains.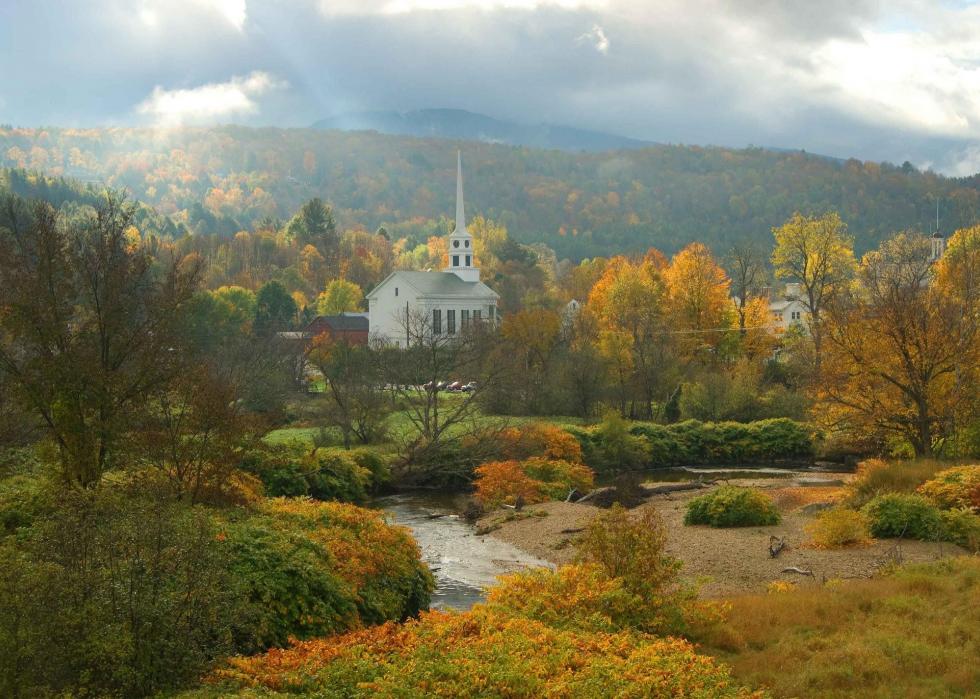 7 / 50
Ryan Taylor // Flickr Commons
#44. Stowe, VT
Est. Population: 4,407
Each fall season, leaf-peepers flock to this ski resort town, which is almost more beautiful without snow. Mountains beam with the redness of sugar maples and gold hues from poplar, elm, and hickory trees. You can catch this technicolor landscape as you take a scenic drive through Stowe Hollow (and stop for a tour at the Ben & Jerry's Factory, of course).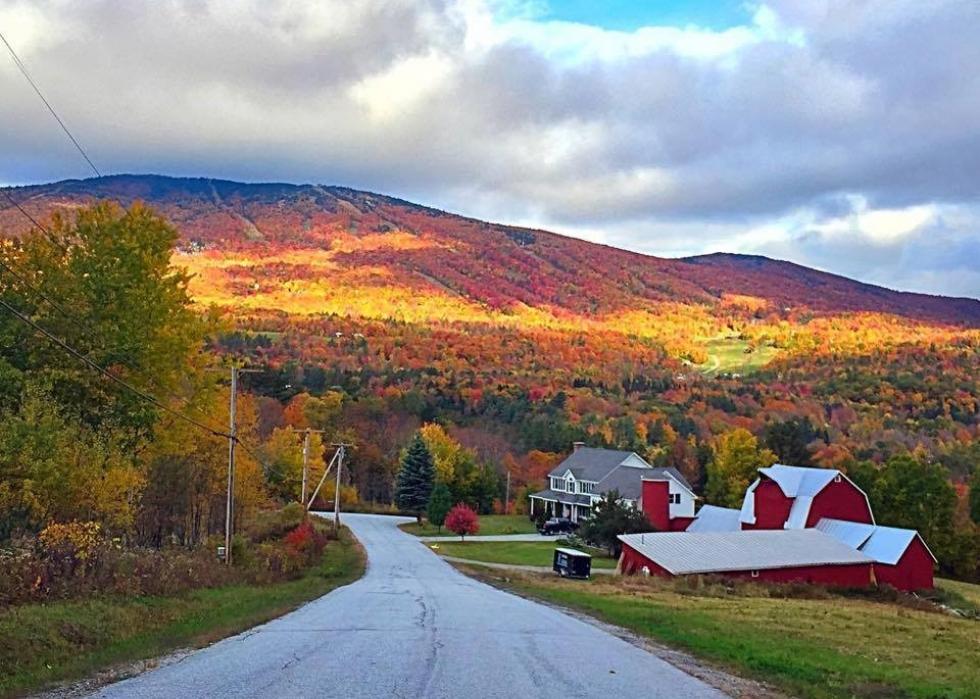 8 / 50
Christina Maria Graves // Vermont Facebook
#43. Ludlow, VT
Est. Population: 2,140
Another ski resort town, Ludlow offers awe-inspiring colors in the fall, which are best viewed from the top of the 3,344-foot Okemo Mountain. The views also include Vermont's Green Mountains to the west.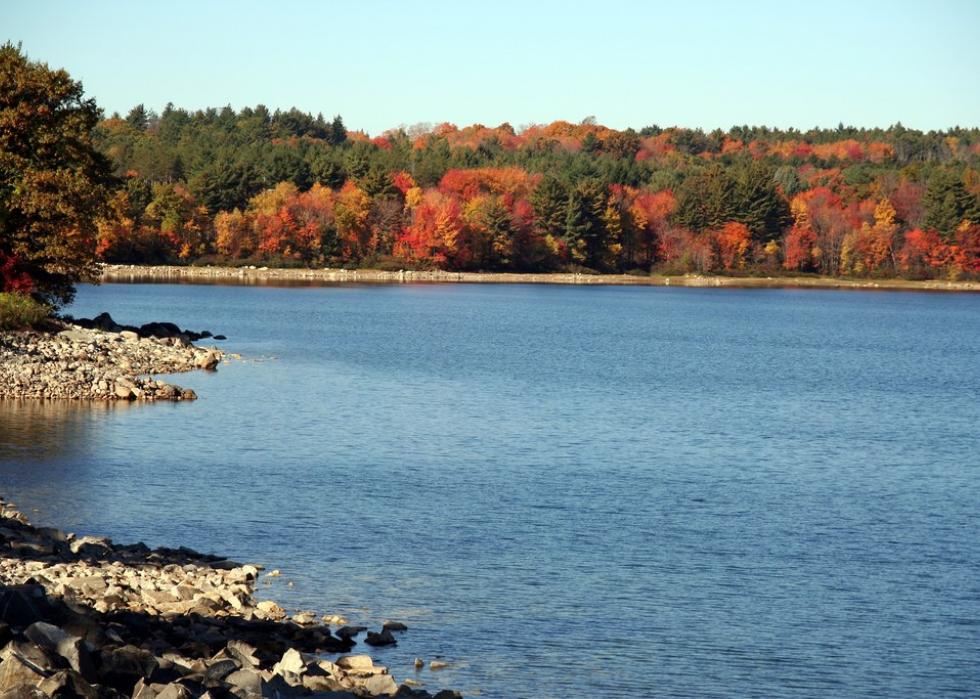 9 / 50
D.R.Davis // Flickr Commons
#42. Petersham, MA
Est. Population: 1,161
Just north of Boston, Petersham is a marvel of natural beauty, featuring crimson hardwood trees and a view of the surrounding calm waters of the Quabbin Reservoir. Must-see stops include Harvard Forest, Swift River Reservation, and North Common Meadow.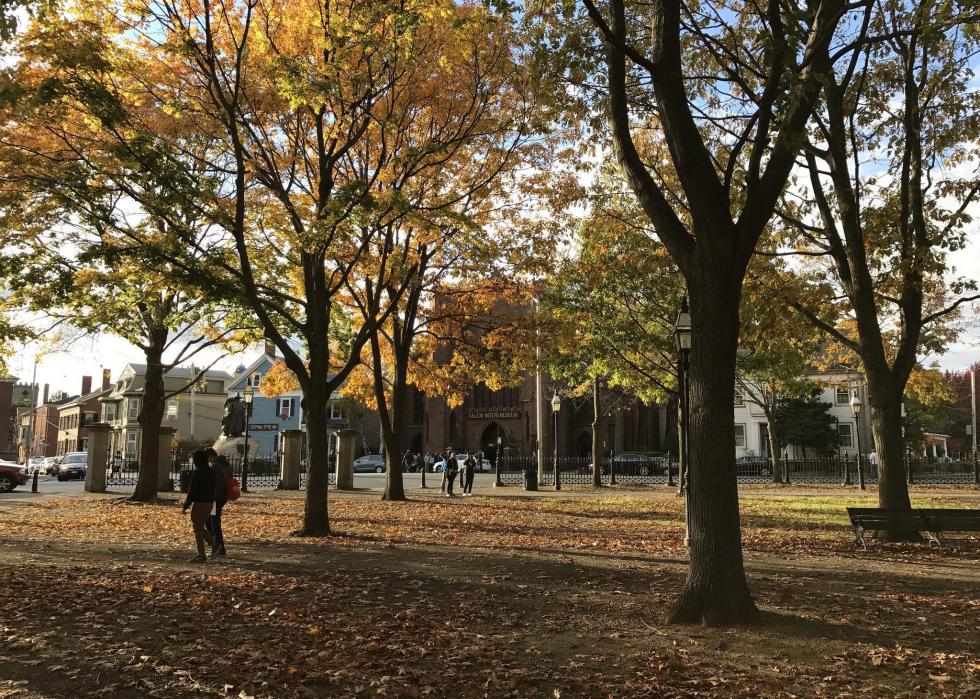 10 / 50
massmatt // Flickr Commons
#41. Salem, MA
Est. Population: 41,340
The easily frightened may be hesitant to visit the town with a haunted past, but be assured that the Salem offers more than "Haunted Happenings" throughout October. Russet and golden leaves make Salem Common and Salem Willows the perfect places to take walks, highlighting the beauty that is often an overlooked aspect of the historic town.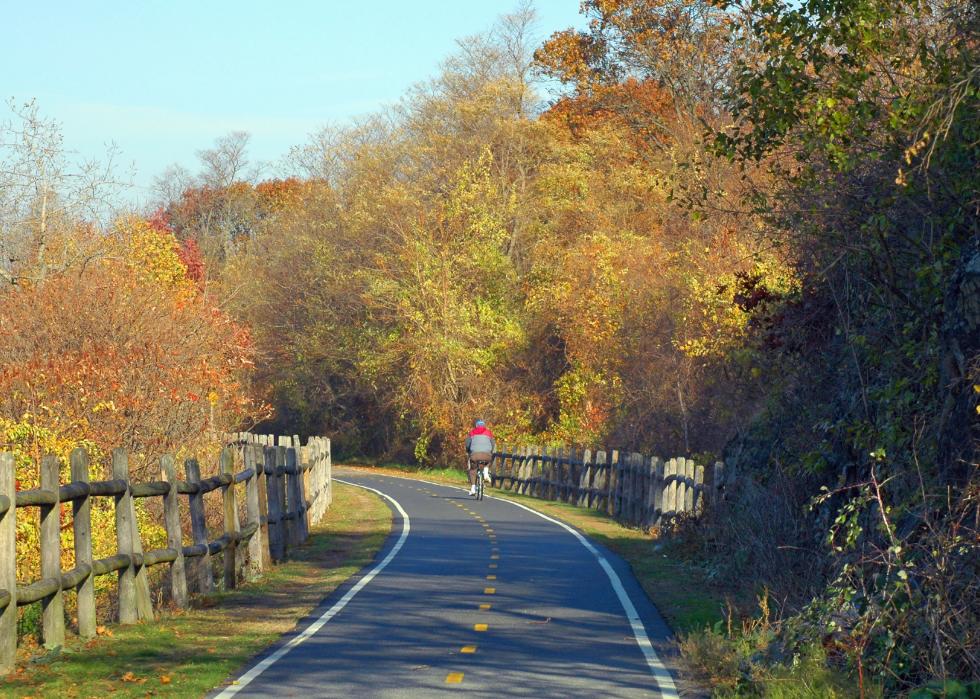 11 / 50
Dan Logan // Shutterstock
#40. Bristol, RI
Est. Population: 49,176
Rhode Island may be small, but its autumnal scenery is larger than life. A lovely natural backdrop for its classic colonial architecture, this nautical town's fall foliage is a must-see for leaf peepers. The East Bay Bike Path offers awe-inspiring views for the more active adventurers, while the nearby Blithewold Gardens and Colt State Park can put you right in the thick of the changing nature.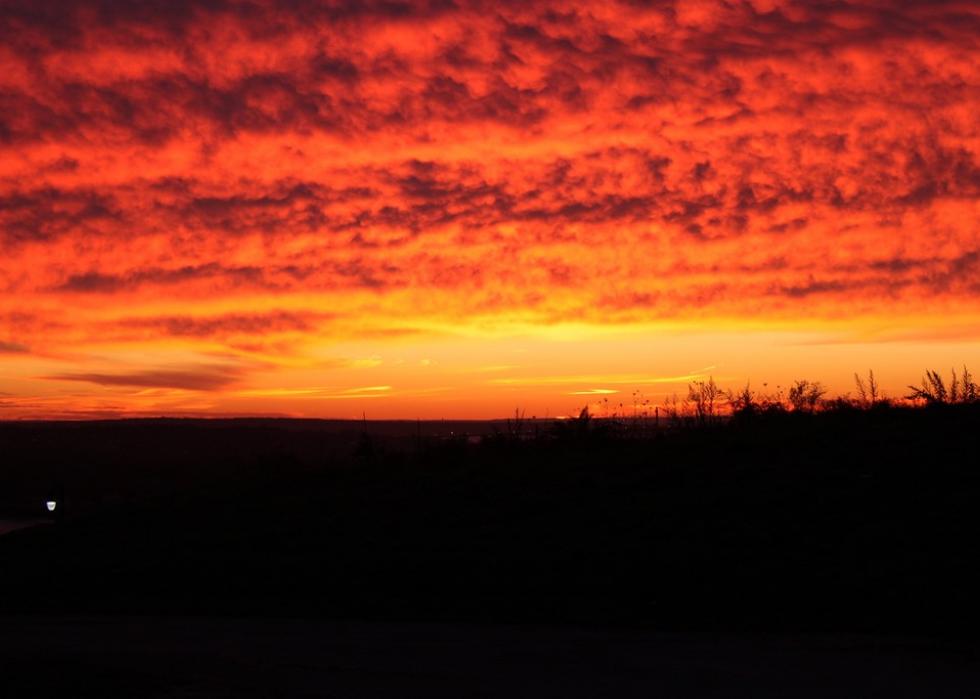 12 / 50
FromSandToGlass // Flickr Commons
#39. Tiverton, RI
Est. Population: 15,818
For those who are familiar with Tiverton, it's a town whose name is most often synonymous with summer. But fall is one of the best times to explore this area, especially when traffic is light and the images of orange and scarlet leaves are reflected in the Sakonnet River. Take a walk through the nature trails in Wetamoo Woods, the Pardon Gray Preserve and Emilie Ruecker Wildlife Refuge for a serene experience.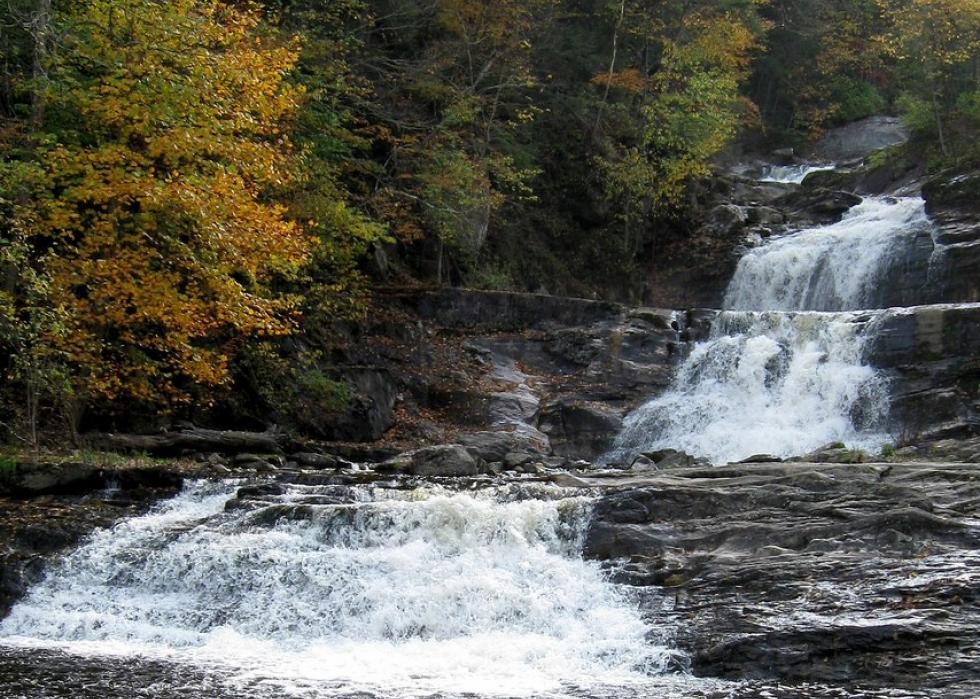 13 / 50
#38. Kent, CT
Est. Population: 2,917
Fall in Kent is such a special time to locals that every year the Connecticut Antique Machinery Association (CAMA) holds the Kent Fall Festival, where vendors show off their goods and the town can officially welcome the patchwork quilt of reds and oranges that put Kent on the map. Wander across the famous covered bridge or hike along the trails in Kent Falls State Park to properly take it all in.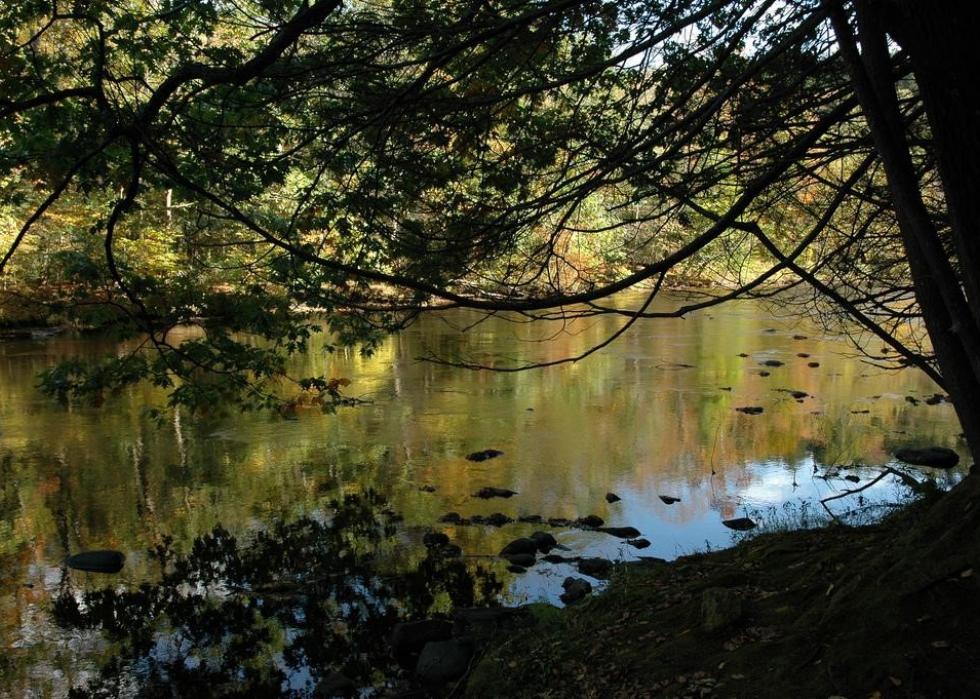 14 / 50
LMarino // Flickr Commons
#37. Washington, CT
Est. Population: 3,517
Getting the most out of Connecticut's technicolor fall foliage is made easier by following the 100-mile loop through the Litchfield Hills or the 46-mile loop from New Milford to Mount Tom State Park. Maples, birches and dogwoods look like they were hand painted, and historic covered bridges add that quaint New England feel that the area is known for.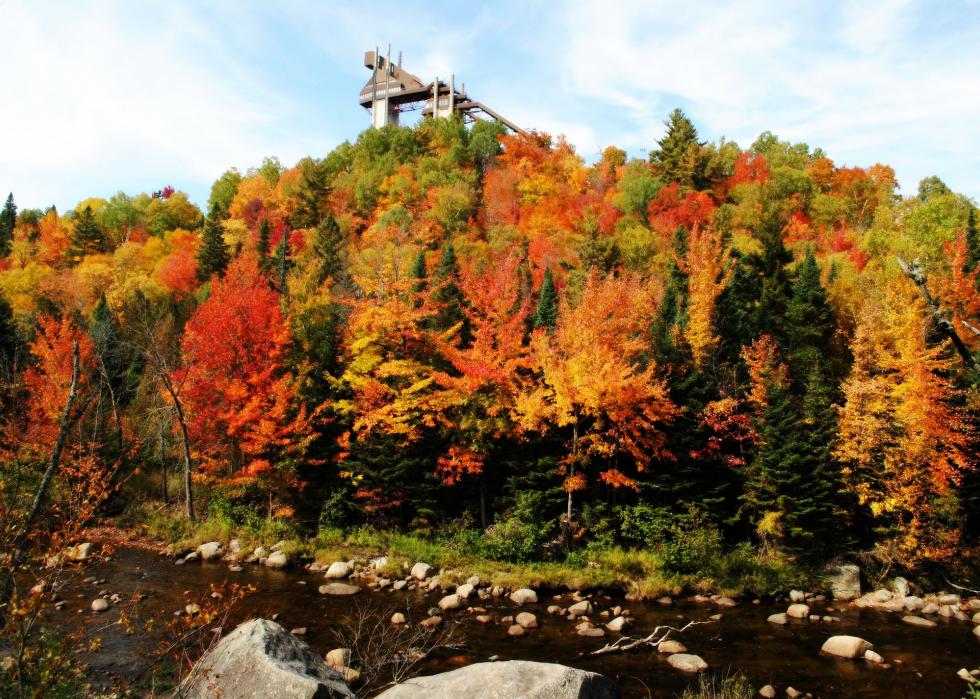 15 / 50
diane cordell // Flickr Commons
#36. Lake Placid, NY
Est. Population: 2,539
As you make your way through New York's Olympic Trail Scenic Byway, be sure to stop and admire beautiful Lake Placid, a picturesque oasis flanked by red maples, aspen, birch, oak trees and many more. And if you're timing's just right, you can enjoy the breaktaking scenery while you sip at the annual Lake Placid Brewfest, which has crowned itself "the premier brewfest in the Adirondack Mountains."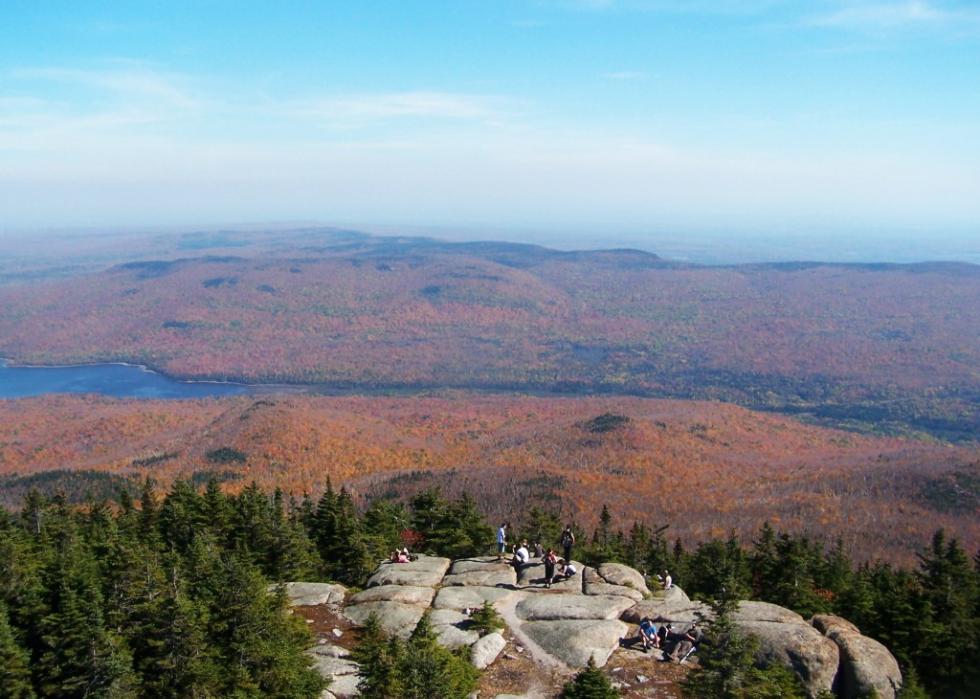 16 / 50
Andy Arthur // Flickr Commons
#35. Saranac Lake, NY
Est. Population: 5,727
Self-proclaimed as "The Adirondacks' coolest place," the village of Saranac Lake is filled with friendly people, quirky shops and is awash with color in autumn. The deep blue of the lake reflects the warm, bright colors of the leaves, which you can also spot driving on Route 86 or hiking up St. Regis Mountain (one of the Saranac Lake "6ers" – six mountains surrounding the lake).