Preparing for evacuations or power outages
With National Preparedness Month upon us, we want to help keep you safe and secure, no matter what might be happening outside. This is the time of year when we're often faced with natural disasters like severe storms, wildfires, or hurricanes, and we may need to deal with power outages.Get help creating a disaster plan.
Over 60% of Americans have no disaster plan
Having the right supplies and emergency plan is more important than everJUDY is a company that offers emergency kits to help keep clients safe during life's unpredictable moments. These kits are great for both individuals and families on the go. JUDY offers existing Chubb PRS clients a 15% discount on these emergency kits (applied in the cart).Learn more about these kits and their contents by visiting the JUDY website or watch one of our Risk Consultants, Kristi Cowan, unbox her kit.
Evacuations for caregiversIf you're caring for someone who is elderly or has a disability, evacuations can present unique challenges. Here are a couple things to consider that can save you time and stress in the moment:
Research transportation options ahead of time and have a list of backups, including transit providers who can accommodate wheelchairs or any other mobility concerns.
Have a copy of the person in your care's medical history handy, as well as an emergency supply of all their medications. Most doctors are willing to provide a 90-day supply, though this may not always be covered by insurance.Get more tips and suggestions to consider for your accessible home.
How to prepare for a power outagePower outages can be caused by a natural disaster, heat wave, or accident nearby. In other words, they can happen any time. To prepare for a power outage, here are some easy steps to take now:
Put new batteries in your smoke and carbon monoxide detectors every year.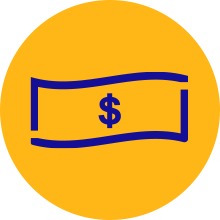 Make sure you have cash in a safe with a backup battery or as part of your evacuation kit. Watch this video for more tips on what to pack.
To keep your home at a comfortable temperature and your major appliances working when the power goes out, install a generator that is large enough to heat or cool your home and operate a few of your major appliances like a refrigerator and stove. If you or a loved one relies on electric machines such as a ventilator or needs to keep medications cold, always have a backup portable power bank charged and ready to use.
Keep a printed list of vendors you can use in emergencies, including collections conservators, art storage facilities, and art handlers.Here are some additional things to consider before and when the power goes out.